It's week two of The Great British Bake Off! This week saw the bakers tested by biscuits - a situation I often find myself in but in far more humble circumstances - one chocolate hobnob with a cup of tea or two?!
Always two.
There was no way I had time enough to try Florentines - they look so pretty but I draw the line at sitting in front of the oven.
Instead, I opted for some Cranberry and Brazil Nut Biscuits. I used
this
recipe off the BBC Good Food website, except my village shop doesn't stock pistachios so let's just pretend it's the same, ok?
The recipe was so easy to follow - except a few minutes of panic because my dough wasn't dough like. Hint: the heat from your hands softens the butter as you work it into a dough - so it gets less crumbly the more you touch it.
The recipe says it makes 22 biscuits. Ummm - on what planet?! I got 13 modest biscuits about 5cm across and 1cm thick with the same ingredients. Unless, you want penny sized biscuits, don't try and make 22!
They turned out really nice, with a good 'crumbly break' as Paul would say. They resemble shortbread in a lot of ways, which is unfortunate as I'm not the biggest fan of shortbread. However, I have it on good authority that they taste pretty darn nice. Next time, I think a little spice or maybe some white chocolate drizzled over the top would send it into ultimate biscuit territory.
This episode came at such a perfect time. I'd done a huge day on my dissertation and finally switched off my computer at 10:30pm, only to remember I had a GBBO episode ready and waiting on iPlayer. Cup of tea in hand and curled up in bed, images of Merry Berry biting things and Mel and Sue licking spoons sent me off to sleep. Will I get cool one day? Early polls suggest not.
With formatting and a killer conclusion left to write, I suspect things will be a little quiet for a few days.
Look out for an Autumn Wardrobe Wish List and pictures of my impending celebratory trip to the Edinburgh Fringe.
With this weeks challenge ticked off, can we all take a moment to appreciate Chetna's perfect reaction to an imposingly placed Paul Hollywood?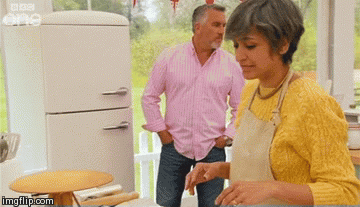 Let's see what Bread Week has in stall for us...